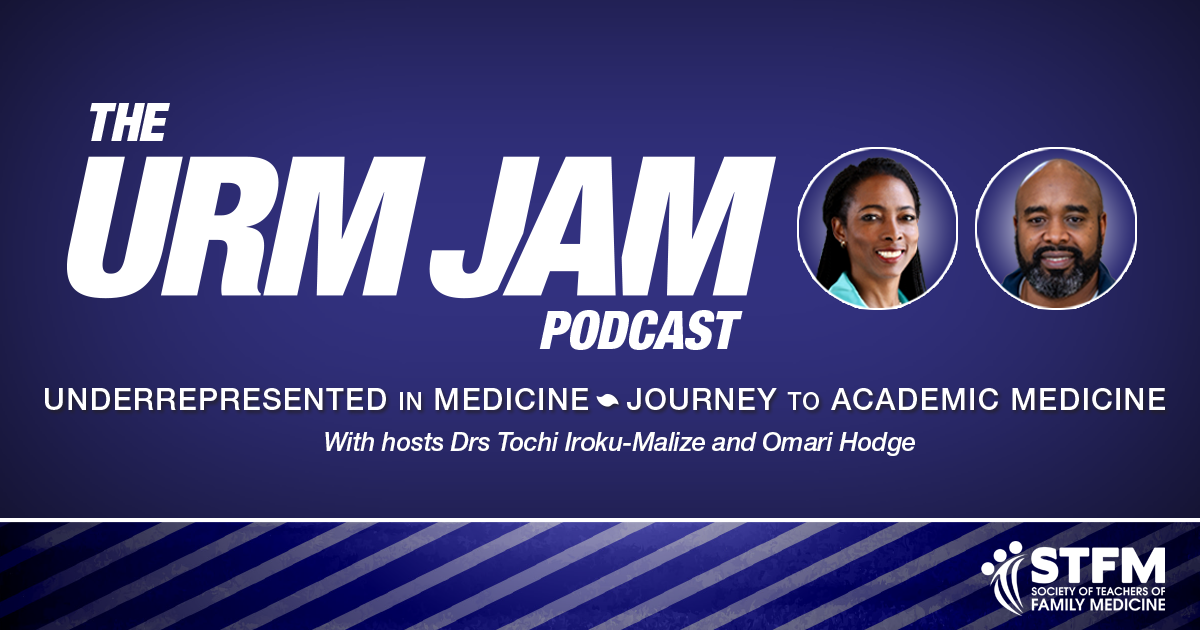 The Underrepresented in Medicine Journey to Academic Medicine Podcast
Episode 23: Finding a Path To Academic Family Medicine with Maili Velez-Dalla Tor, MD, FAAFP
Maili Velez-Dalla Tor, MD, FAAFP, describes how her avid podcast listening coupled with her desire to provide convenient professional development for learners and early-career faculty led to the creation of the URM JAM Podcast through her work as the STFM URM Faculty Pipeline Work Group Leader. Dr Velez-Dalla Tor shares her experiences with overcoming imposter syndrome throughout her career path and seeing why representation matters. She expresses her passion for addressing the barriers URM students and residents face during their training.
Hosted by Tochi Iroku-Malize, MD, MPH, MBA and Omari Hodge, MD, FAAFP
Resources
Do I Belong Here? Confronting Imposter Syndrome at an Individual, Peer, and Institutional Level in Health Professionals (article)
One of Those Kids in That Class Is Me and They Deserve a Chance by Renee Crichlow, MD (blog)
Mi Gente by Edgar Figueroa, MD, MPH (blog)
Episode 3: Building Your Academic Portfolio and CV with Renee Crichlow, MD (podcast)
Keys to career success: resources and barriers identified by early career academic hospitalists (article).
URM Leadership Pathways in Academic Medicine (free online course)
Leadership Pathways in Academic Family Medicine: Focus on Underrepresented Minorities and Women (article)