Conference Hotel
Hilton St. Louis at the Ballpark
1 S Broadway
St. Louis, MO 63102
Conference Room Block will open in June 2020.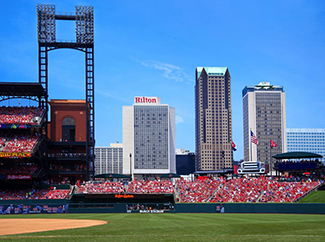 Hilton St. Louis at the Ballpark is within 100 yards of Busch Stadium and a full service St. Louis hotel near the Gateway Arch. Discover nearby fun, family-friendly activities, great entertainment venues and an exciting nightlife in the Gateway City. Relax at a cozy neighborhood cafe, tour a brewery and take the kids on a safari adventure at the Saint Louis Zoo.
Whether you're an urban explorer, die-hard sports fan, aficionado of family fun, you'll find what you're looking for. It's all in a day's fun in St. Louis.
Enjoy being just minutes from things to do in St. Louis such as attractions, museums, sporting venues, business, shopping and dining including:
Saint Louis Zoo
Budweiser Brewery
Forest Park
Ballpark Village
Gateway Arch
Magic House, City Museum
Questions
If you have questions about the Conference of Practice and Quality Improvement, contact 800.274.7928 or email stfmoffice@stfm.org,