Family Medicine Journal Names Octavia Amaechi, MD, as DEIA Editor
Family Medicine Journal Names Dr Amaechi as DEIA Editor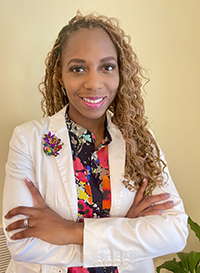 Octavia Amaechi, MD, has been named Family Medicine's editor for diversity, equity, inclusivity, and anti-racism (DEIA). She will contribute to the overall mission of the journal by providing insight and expertise to the editorial team about issues related to DEIA.
"I look forward to working closely with the editorial team to ensure the content in Family Medicine reflects the full spectrum of diversity within the discipline of family medicine," said Dr Amaechi.  
Dr Amaechi currently serves as core faculty at Spartanburg Regional Family Medicine Residency and chief of medical staff for the Spartanburg Regional Health Care System in Spartanburg, SC. 
"The Family Medicine editorial team is delighted to have Dr Amaechi join us as the inaugural DEIA Editor.  She has a deep knowledge of diversity and inclusion topics and will be a dynamic and energetic ambassador for the journal.  This new editorial role will contribute to Family Medicine's efforts toward antiracist publication," said Sarina Schrager, MD, MS, Family Medicine editor-in-chief.
Her duties as DEIA editor will include:
advising the editor-in-chief and the editorial team about issues related to DEIA and the content of the journal
reviewing manuscripts within the DEIA content area
recruiting a more diverse group of authors, peer reviewers, and editorial board members
writing editorials about DEIA issues
representing the journal and the editorial team to the broader community of family medicine educators and STFM member
 "I aim to focus on creating space for contributions from authors whose meaningful work and experiences have been historically overlooked in medical literature. Importantly I endeavor to promote publications that consider our collective role as advocates for social justice, healthy equity and anti-racism in medicine, medical education, and health policies."
Dr Amaechi has served as a peer reviewer for Family Medicine and Annals of Family Medicine. Her publications, presentations, community service activities, and leadership highlight a career focusing in on addressing systemic bias, racism, and health disparities.