It Starts With Me: An Individualized Faculty Development Project to Enhance Resident Feedback in Family Medicine Residency Training
by Velyn Wu, MD, FAAFP; Julie Nyquist, PhD; and James Tysinger, PhD
Background
There is a shift in medical education from unidirectional feedback given from teacher to learner to a coaching model where both work together to achieve educational goals. An identified barrier to residents valuing or effectively receiving feedback is the culture in which feedback is rendered. A proposed solution to overcoming this barrier is for faculty to work on an educational alliance where the learner's perspective informs the quality of the relationship. This includes making the provision of feedback a normal part of the program, creating longitudinal relationships, and working together to support the learner.
This individualized faculty development plan was created to develop an individual faculty member's skill in giving effective and valued formative feedback. The primary outcomes of this project were to normalize feedback, create a safe feedback environment, motivate residents to use feedback for professional growth, and to use growth-promoting words in feedback. After residents reported low satisfaction with feedback on the 2017-2018 ACGME survey, we identified a secondary outcome of this project to see if this change could also impact the culture of feedback in the program.
Intervention
Over 12 months, 21 family medicine residents at a single-program, community-based family medicine residency program received feedback from a single core faculty member during their outpatient continuity clinic learning experience.
Feedback from the faculty was emailed within 24 hours after each outpatient clinical half-day precepting session with the resident. Emails were titled "What I Enjoyed About Working With You in Clinic Today" to promote the idea of teamwork and collaboration. Feedback was specific to behaviors in the six ACGME core competencies using a model focusing on three types of feedback: appreciation, affirmation, and coaching.
Faculty accountability was maintained through a feedback portfolio that included all feedback emails sent to residents, all resident responses to the emails, and unsolicited general feedback to the faculty member from residents. This portfolio was maintained by the faculty in a personal Outlook email folder.
Methods
We piloted the feedback process for 1 month at the end of the academic year with the graduating PGY-3 class. It was then formally implemented from July 2018 through June 2019 with all three resident classes.
Residents completed a survey at 6 months and 1 year after implementation to assess resident reaction to and perceptions of the feedback given to them after their clinical interactions with the faculty member and personal use of feedback to influence any of their behavior(s). Completion of the survey was voluntary.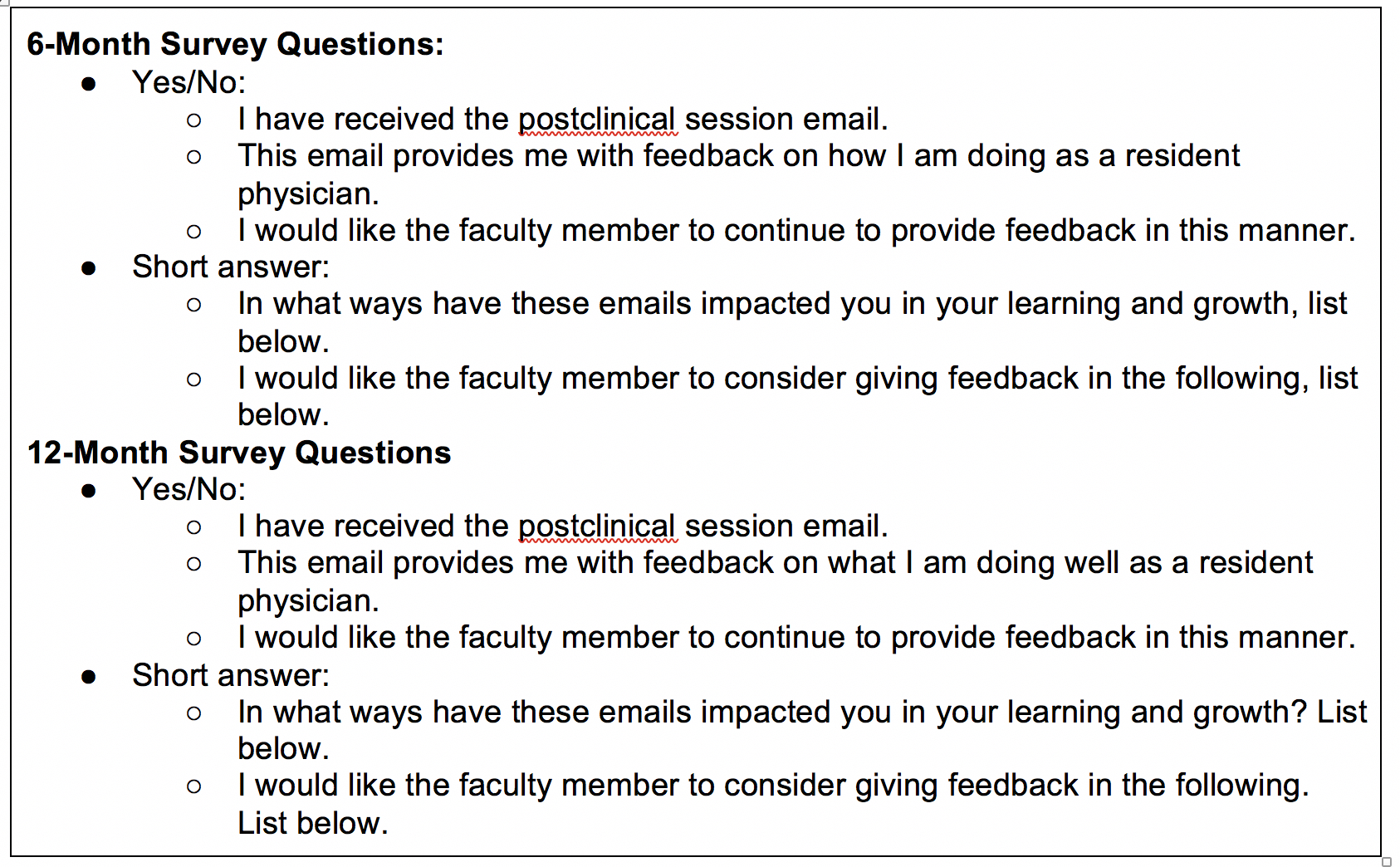 Results
The faculty member was able to send out an email to 100% of residents supervised in a half-day continuity clinic session over the 12 months. Reaction surveys were collected on 12 residents at 6 months and 15 residents at 12 months. Residents provided positive reactions to feedback and were able to identify ways they used it for improvement. The satisfaction with feedback score also improved on the annual ACGME survey.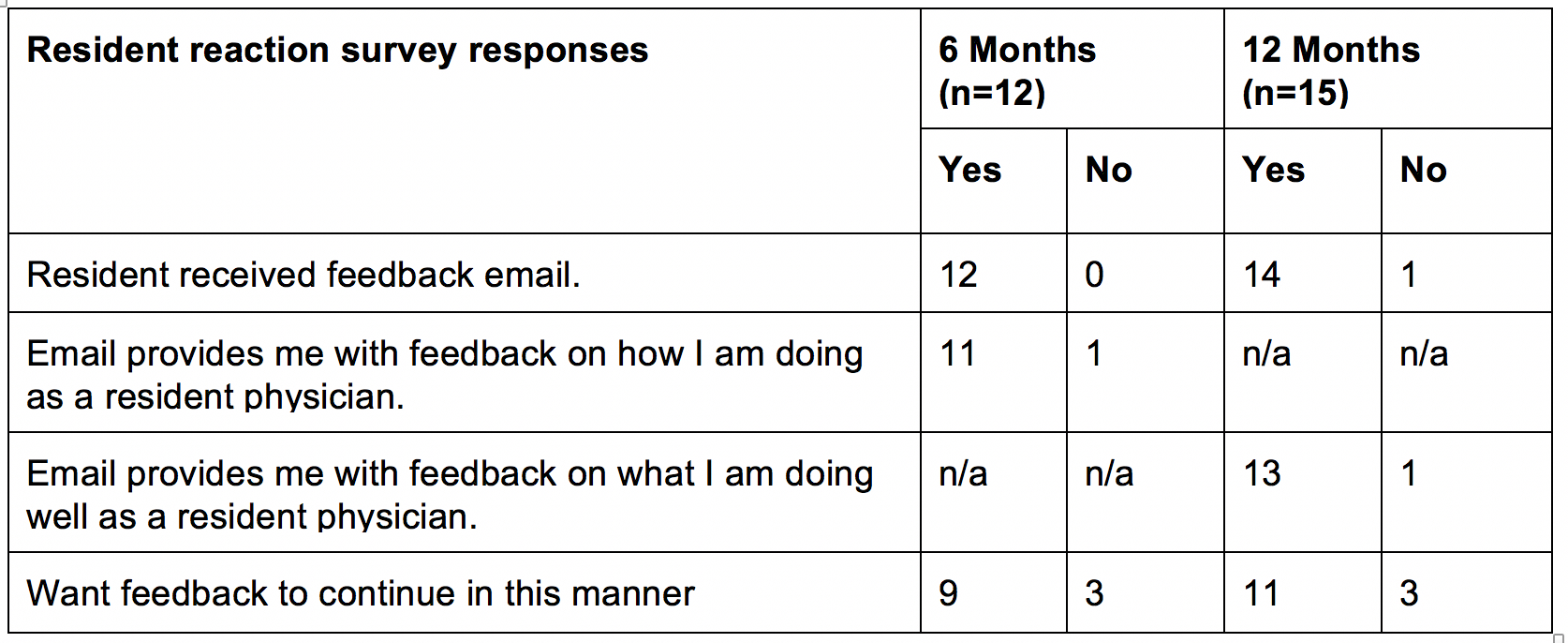 Conclusions
Email is an efficient and effective method for providing timely and private formative feedback to residents. It promotes the collaborative learning relationship by giving residents an opportunity to respond and keep feedback for future reflection. Residents appreciated being told what they are doing well because they feel that they receive mainly negative feedback from faculty and themselves. Using written feedback allowed the faculty member to practice wording feedback prior to giving it and to learn how useful feedback was to the resident. This intervention may have been a factor in the improved ACGME survey resident feedback satisfaction score through its influence on the feedback culture in the program.
Suggested Reading
Bing-You R, Hayes V, Varaklis K, Trowbridge R, Kemp H, McKelvy D. Feedback for Learners in Medical Education: What Is Known? A Scoping Review. Acad Med. 2017 Sep;92(9):1346-1354. doi: 1097/ACM.0000000000001578
Ramani S, Krackov SK. Twelve tips for giving feedback effectively in the clinical environment. Med Teach. 2012;34(10):787-791. doi:10.3109/0142159X.2012.684916
Ramani S, Könings KD, Mann KV, Pisarski EE, Vleuten CP. About Politeness, Face, and Feedback. Acad Med. 2018;93(9), 1348-1358. doi:10.1097/ACM.0000000000002193
Stone, D and Heen S. Thanks for the Feedback: The Science and Art of Receiving Feedback Well*. New York: Penguin Books; 2014.
Telio S, Ajjawi R, Regehr G. The "educational alliance" as a framework for reconceptualizing feedback in medical education. Acad Med. 2015 May;90(5):609-14. doi: 1097/ACM.0000000000000560.
Watling CJ, Ginsburg S, Watling CJ, Ginsburg S. Assessment, feedback and the alchemy of learning. Med Educ. 2019;53(1):76-85. doi:10.1111/medu.13645