A Residency Program Providing Prenatal Care for Patients With Limited Medical Insurance Coverage
Emily Welder, MD; Alka Walter, MBBS, MS; Wendy Shen, MD, PhD; University of Iowa Department of Family Medicine, Iowa City, IA
Background
Family physicians provide most of the obstetrics care in rural US hospitals,1 but the number of family physicians providing maternity care is decreasing.2 The American Academy of Family Physicians (AAFP) Board has called upon family physicians to help reverse the trends of increasing maternal mortality in the United States.3,4 Residency programs that prioritize training in maternity care produce more family physicians who conduct deliveries after graduation.5 This suggests that strengthening maternity care training could serve to halt or reverse this trend.  
Changes to Medicaid coverage in the state of Iowa in April 2017 resulted in a limitation of ambulatory prenatal care through the Presumptive Eligibility Program to a total of 2 calendar months.6
To increase access to prenatal care in the Iowa City community and to strengthen maternity care training in our residency program, the University of Iowa Family Medicine Residency partnered with the Iowa City Free Medical Clinic (FMC), a community nonprofit organization, to create a once-a-week clinic on Thursday nights for free prenatal medical care.
Intervention
The Prenatal Free Medical Clinic (PFMC) was created in December 2017 through the collaboration of the University of Iowa Department of Family Medicine with the Iowa City Free Medical Clinic (FMC). We incorporated the clinic into the residency curriculum to allow all residents to serve at the FMC on outpatient rotations. We have a core care coordination group to manage patient recruitment,  scheduling, and care tracking. We have also organized grant applications and fundraising for nonstress test machines and medical supplies (including breast pumps, automatic blood pressure cuffs, fetal dopplers, intrauterine devices, and immunizations).
We surveyed all family medicine (FM) residents who have completed at least 1 year of training about their experience with this program to better understand the change in residents' skills and experience in prenatal care following implementation of this program. We also tracked and compared the number of vaginal deliveries and return OB visits performed by all FM residents prior to and after the program started to show the change in obstetrical visits that residents have achieved following implementation of this program.
Results
An increase in total return OB visits for residents was noted after the creation of the PFMC in December 2017. An increased proportion of visits located at the FMC was also noted (Figure 1).
Figure 1. Return OB Visits per Year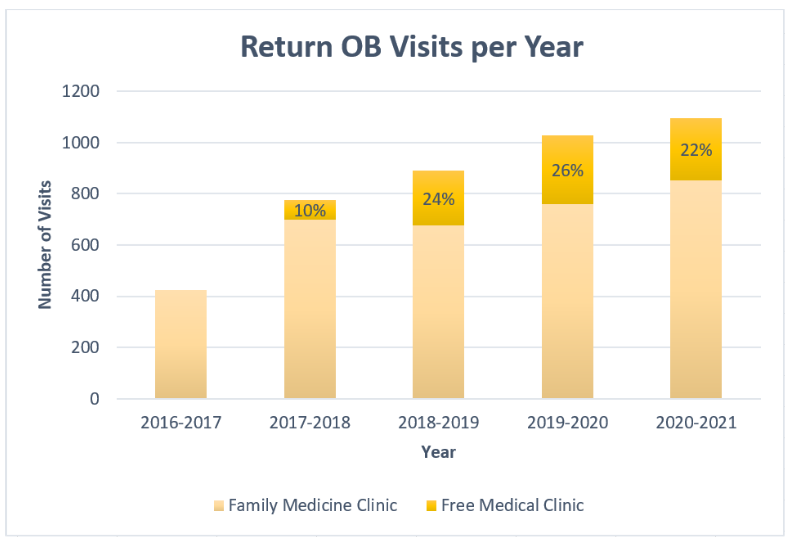 The proportion of vaginal deliveries for patients with Medicaid (including Emergency Medicaid coverage) and self-pay is increasing each year since implementing the PFMC program (Figure 2).
Figure 2: Vaginal Deliveries per Year by Payor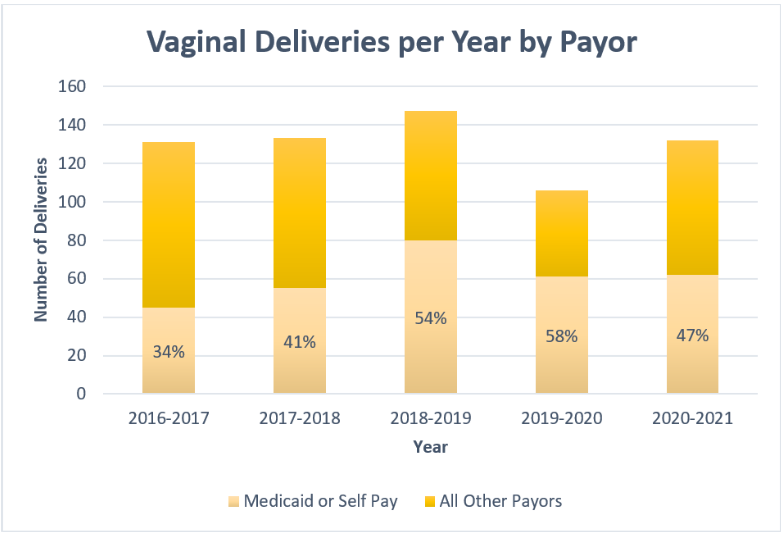 A survey of residents who have provided prenatal care in the FMC was conducted, with a 63% response rate (n=10). These residents were surveyed about each of the below topics and rated the FMC experience on a scale ranging from not helpful to extremely helpful (Table 1). In addition to the perceptions below, residents also reported an increase in knowledge about community resources for pregnant women such as access to affordable ultrasonography, childcare resources in the community, a maternal support group, and government programs such as Women, Infants, and Children (WIC).
Table 1: Resident Survey
| | | | | | |
| --- | --- | --- | --- | --- | --- |
|   | No Change | Slightly Helpful | Moderately Helpful | Very Helpful | Extremely Helpful |
| Gaining OB knowledge and skills | 0% | 20% | 40% | 40% | 0% |
| Learning to care for underserved patients | 0% | 0% | 30% | 50% | 20% |
| Learning to care for patients with limited English proficiency | 0% | 10% | 60% | 30% | 0% |
Conclusions
Several factors contribute to the decline of family physicians providing maternity care service, one of which is insufficient training during residency. Many programs struggle to maintain an adequate number of deliveries to ensure competency and confidence in maternity care. In our community, we also have an underserved population that does not have adequate access to prenatal care. The collaboration between a community free medical clinic and a family medicine residency led to more prenatal visits and more deliveries of women with limited health insurance for family medicine residents. All resident respondents also reported gaining more obstetrical skills through the program and gaining valuable experience caring for underserved patients and patients with limited English proficiency. Our experience with the program initiative to include a community free medical clinic for prenatal care into the residency curriculum demonstrated that this can be beneficial for both maternity care training for our residents and provide much-needed outreach prenatal care to underserved populations. We hope that this will in turn empower newly graduated family physicians to continue to provide maternity care, care for underserved patients, and work in limited-resource settings.
Acknowledgments: The authors thank the Department of Family Medicine and the Iowa City Free Medical Clinic for their valuable support and collaboration, with special gratitude for the extra service from Drs David Bedell, Jason Powers, Mary Rysavy, Whitney Kaefring, and Meghan Connett.
References
1. Young RA. Maternity care services provided by family physicians in rural hospitals. J Am Board Fam Med. 2017;30(1):71-77. doi:10.3122/jabfm.2017.01.160072
2. Tong ST, Makaroff LA, Xierali IM, et al. Proportion of family physicians providing maternity care continues to decline. J Am Board Fam Med. 2012;25(3):270-271. doi:10.3122/jabfm.2012.03.110256
3. Cullen J. Obstetrics care in rural areas is faltering. Fam Pract News. 2020;50(1):1-3.
4. Olden C. AAFP delivering on maternity care training, resources. American Academy of Family Physicians. Updated August 17, 2016. Accessed February 9, 2020. https://www.aafp.org/news/blogs/leadervoices/entry/aafp_delivering_on_maternity_care.html
5. Sutter MB, Prasad R, Roberts MB, Magee SR. Teaching maternity care in family medicine residencies: what factors predict graduate continuation of obstetrics? A 2013 CERA program directors study. Fam Med. 2015;47(6):459-465.