TeleHealth Education for Learners and Preceptors (TeleHELP): A Needs Assessment for Improving Virtual Care
by Emily Peacock, MD, Atrium Health Cabarrus Family Medicine Residency, Concord, NC; Elyse Pierre, MD, Uniformed Services University of the Health Sciences, Bethesda, MD; Stephen Carek, MD, Prisma Health/USCSOM Greenville Family Medicine Residency, Greenville, SC; Brian Ford, MD, Uniformed Services University of the Health Sciences, Bethesda, MD; Erin Smith, DO, Lehigh Valley Health Network, Allentown, PA; Leif Magnusson, DO, Prevea Health Eau Claire Family Medicine, Eau Claire, WI; Elizabeth Erickson, MD, Duke Department of Pediatrics, Durham, NC; Benjamin Simmons, MD, Atrium Health Union Family Practice, Monroe, NC; Jackie Yurgil, DO, Offutt AFB/University of Nebraska Medical Center Family Medicine Residency, Bellevue, NE; Erik Bulter, DO, UNC Department of Family Medicine, Chapel Hill, NC; Shane Hudnall, MD, Cone Health, Greensboro, NC
Background
Telehealth care encompasses telecommunications and information technologies to share information to provide clinical care remotely for patients and providers. The COVID-19 pandemic has accelerated the adoption of virtual health care delivery by hospital systems and academic institutions. As a result, the pivot to telehealth for resident trainees was abrupt and significant, as very few had prior experience or training on the appropriate use of virtual care to deliver safe, high-quality health care under the supervision of a precepting physician. Telehealth encounters represent a robust education opportunity given their role in providing high-quality, safe, and patient-centered care.  
There is limited research on curricular models for telehealth didactics or how it compares to in-person care in primary care teaching settings. Effective curricula and precepting models are needed to train health care team members to deliver virtual care safely and effectively. The Telehealth Education for Learners and Preceptors (TeleHELP) collaborative, which comprises a diverse group of physicians participating in the UNC Chapel Hill Faculty Development Fellowship, tries to enhance the educational experience of telehealth encounters for faculty and learners.
Intervention 
We developed a needs assessment regarding the educational experiences for telehealth care delivery in residency training programs. The needs assessment was administered through Qualtrics and included basic demographic data, qualitative and quantitative questions of perceptions regarding the utilization, safety, and educational benefit of telemedicine at their institution, with specific survey questions for either faculty or resident physicians. The institutions of each of the primary authors received institutional review board approval or exemption status. 
Results
We collected preliminary data from nine primary care residency programs (eight family medicine and one pediatrics). Between January 2022 and March of 2022, we received 193 responses (103 faculty, 90 residents). Of those, 89% did not practice telehealth before the COVID-19 shutdown in March 2020, and now only 7% are not practicing telehealth. The majority (76%) perform both video and telephone visits.  On a 5-point Likert scale, respondents were neutral (3.0) on whether there was adequate training around telehealth in their program and close to neutral (3.3) on the opportunity for medical teaching in telehealth visits. 
Of the 103 faculty responses, 92% currently precept telemedicine encounters. However, 83% of respondents had no prior training in precepting telemedicine. Of those, 99% were interested in training in this domain. When asked about providing meaningful education to residents during telehealth visits, faculty were close to neutral (3.5) on a 5-point Likert scale. They scored similarly for their comfort level with the supervision they provide during telehealth visits (3.5). The top-three topics for future education requested by faculty were (1) how to supervise resident telehealth visits (59.8%), (2) how to teach telehealth physical exam skills (48.0%), and (3) how to evaluate medical decision-making during resident telehealth visits (44.1%).
Residents (n=90) were close to neutral that the faculty consistently precepted (3.4) and provided meaningful education during telehealth visits (3.3).
Table 1: General Responses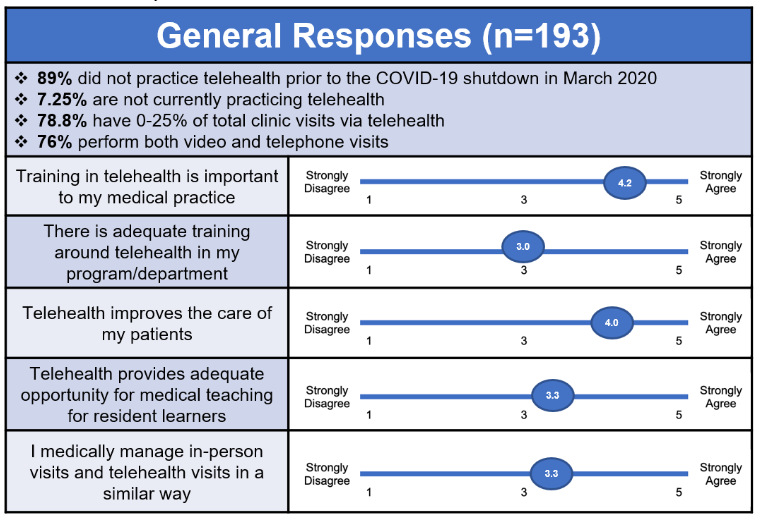 Table 2: Faculty Responses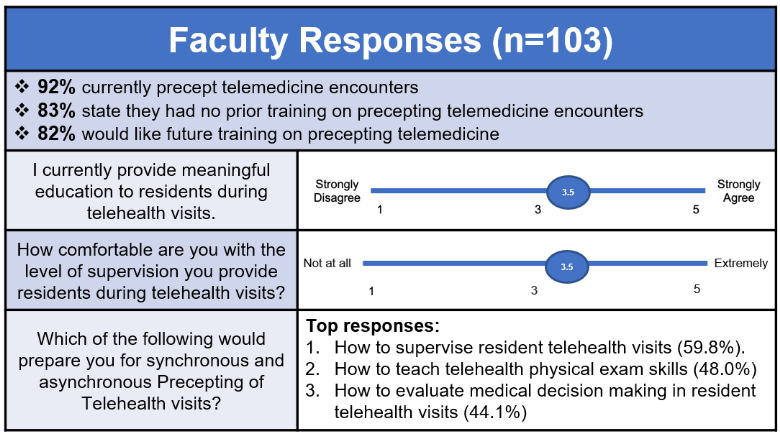 Table 3: Resident Responses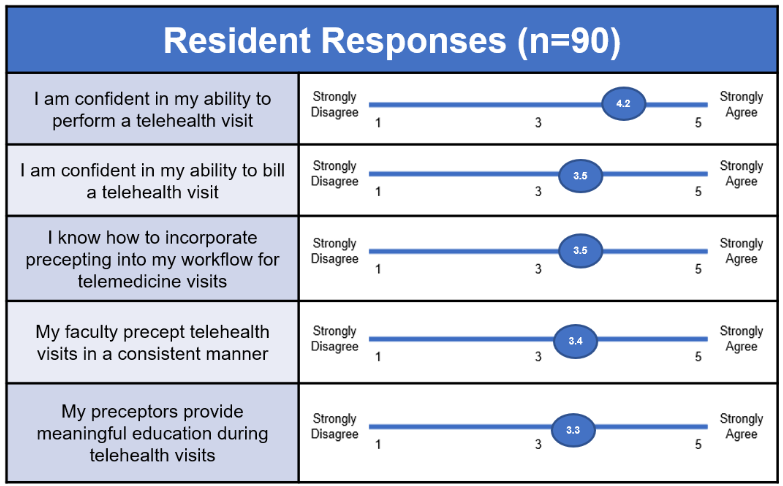 Conclusion 
The needs assessment preliminary data highlight areas of need concerning education around telehealth. Notably, the data show a need for faculty development resources to precept telemedicine encounters. Neither residents nor faculty feels the precepting of telehealth visits routinely provides meaningful educational experiences. Therefore, future curricular development is needed to improve the educational delivery of telemedicine encounters to enhance learner and faculty experiences in telehealth education. 
References