Using Racial Affinity Caucus to Promote Health Equity
by Stuti Nagpal, MD, FAAFP; Nicole Gordon, MD; Pat Gemperline, MD; and Mariel Bryden, MD, FAAFP, Sea Mar Marysville Family Medicine Residency Program
Purpose and Problem
Health care inequities are well documented in the US health care system.1 The Sea Mar Marysville Family Residency Program serves a diverse patient population with many Latinx and non-English speakers (Figure 1).2 Our residents identified health care disparities among our patients based on their race, ethnicity, and primary language. Residents provide care across various locations and are in an environment of training and learning, providing a natural place to engage in an antiracism curriculum. We determined that further antiracism training was needed in order to reveal and address the care inequities in our care of patients.
Figure 1: Sea Mar Marysville Patient Demographics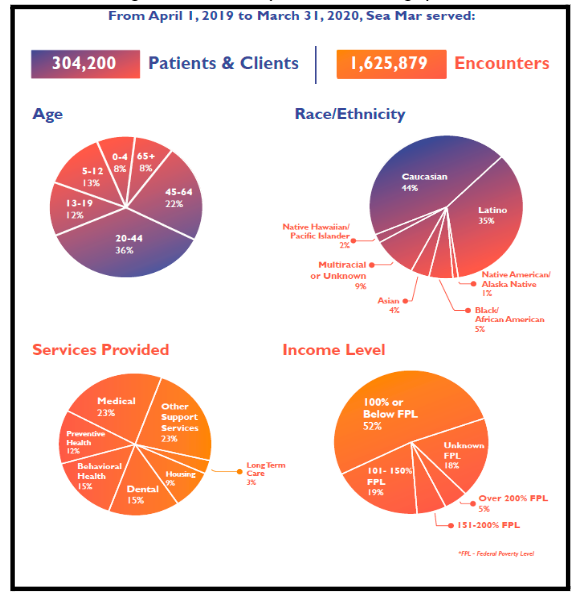 Intervention
Racial affinity caucusing (RAC) is one tool to address systemic inequities within organizations.3,4 Our program set up a racial affinity caucus during an afternoon didactics where approximately 15 residents self-identified into the following three groups: Black, Indigenous, and people of color(BIPOC); mixed; and White.4 In these groups, residents noted several inequities affecting the care of our patients in diverse settings:
Slower medical evaluations for Latinx and BIPOC patients compared to their White counterparts

Language-based inequities included patient menus being in English only, which lead to delays in food delivery 

Inconsistent use of medical interpreters when communicating with patients

In resident education, non-White residents being questioned more aggressively by staff and taken less seriously as compared to White residents at a similar level
During this quality improvement process, we identified and stratified areas of improvement, and the working group developed and implemented the recommendations.
Evaluation and Outcomes 
Based on the revelations from the racial affinity caucus, meetings were held with hospital administration regarding these care gaps for Sea Mar patients. Changes were instituted in the hospital and the residency to improve patient care and resident and staff education in order to decrease implicit bias (Figure 2).


Figure 2: Improvements to Sea Mar Patient Care and Staff Education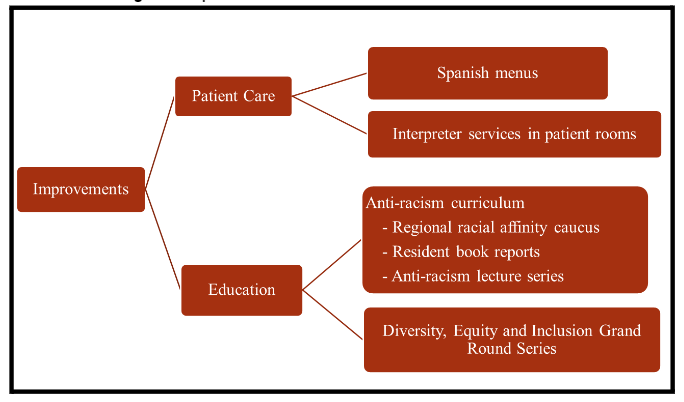 Discussion and Next Steps 
We are far from providing equitable care in the United States. Understanding implicit bias, privilege, and our own prejudices is the first step to providing equitable care to our patients. As part of a broader antiracism curriculum, our racial affinity caucus has led to visible improvements in the care of our patients and treatment of our residents, and we expect that it will continue to do so. We additionally hope that it will further interpersonal growth leading to a diminished effect of internal biases toward our patients. We have presented the findings from our first racial affinity caucus and plan to establish this quality improvement process to occur every quarter. This model could be used by other departments in Sea Mar as well as other organizations and residencies as part of their antiracism efforts.
References 
Adler NE, Rehkopf DH. U.S. disparities in health: descriptions, causes, and mechanisms. Annu Rev Public Health. 2008;29(1):235-252. 

doi:10.1146/annurev.publhealth.29.020907.090852

Sea Mar CHC. Annual Report. Board of Directors; 2020.

Guh J, Krinsky L, White-Davis T, Sethi T, Hayon R, Edgoose J. Teaching racial affinity caucusing as a tool to learn about racial health inequity through an experiential workshop. Fam Med. 2020;52(9):656-660. 

doi:10.22454/FamMed.2020.596649

Guh J, Harris CR, Martinez P, Chen FM, Gianutsos L. Antiracism in residency: a multimethod intervention to increase racial diversity in a community-based residency program. Fam Med. 2019; 51(1):37-40.

doi:

10.22454/FamMed.2019.987621