Project 2: Family medicine departments, ideally in collaboration with other specialties and professions, will pilot standardized preceptor onboarding and engagement resources
Deadline for Applications is February 22, 2019
Up to five departments will be selected as pilot sites with preference given to those that are collaborating with at least two other specialties/departments/professions.
Selected sites will pilot preceptor onboarding and engagement resources that will include:
A faculty appointment onboarding process where administrative personnel at the institution assist new preceptors in developing and formatting CVs during a phone interview.
Participation in the ABFM Precepting Performance Improvement Program, using:

New preceptor developmental competencies
Online self-assessment form (tied to new developmental competencies and targeted faculty development)
TeachingPhysician.org assigned readings

An online STFM course on giving feedback
Use of a new preceptor recognition program
Use of a new teaching practice recognition program
Departments that are part of the project will:
Integrate a variety of STFM provided tools into preceptor onboarding and engagement processes
Participate in an in-person learning collaborative to share/learn about intervention approaches
Conduct standardized pre/post measurement of the impact of the interventions on preceptors' administrative burden, and the learning experience for students. Measurement may require:

The distribution of surveys to clerkship directors, practice managers, and preceptors
Conducting interviews of 3-5 preceptors and practice managers with questions provided by STFM

Allow the Graham Center or other project leaders to visit to learn more about project implementation, successes, and challenges (not all sites will receive a visit)
Disseminate results of their projects broadly and agree to participate in a synthesis report
Pilot sites will receive:
Free access to the onboarding and engagement materials, including TeachingPhysician.org, an online course on giving feedback, preceptor recognition programs, and an interactive self-assessment tool
Implementation ideas, strategies, and guidance
Paid attendance at a Learning Collaborative meeting 
They'll be recognized as a pilot site through:
Recognition in STFM publications, including a listing on the STFM website
A press release sent to their local newspaper and their state chapter
An announcement for their department communications
A logo/graphic/badge to display on their communications
Opportunities to present and publish their results
A ribbon for their badges at STFM conferences
Evaluation/IRB approval
STFM uses the American Academy of Family Physician's IRB, a federally approved IRB. Investigators should follow their local IRB policies regarding use of the data. Evaluation of this project is being led by the Robert Graham Center.
Application eligibility and requirements
Applicants must be a department of family medicine or a department that administers a family medicine clerkship or an equivalent medical education clerkship. Applications with at least two collaborators (i.e. other specialties or professions) will be given preference. The application requires letters of support from the department chair or dean of all participating departments/schools.

This project is funded by the American Board of Family Medicine Foundation.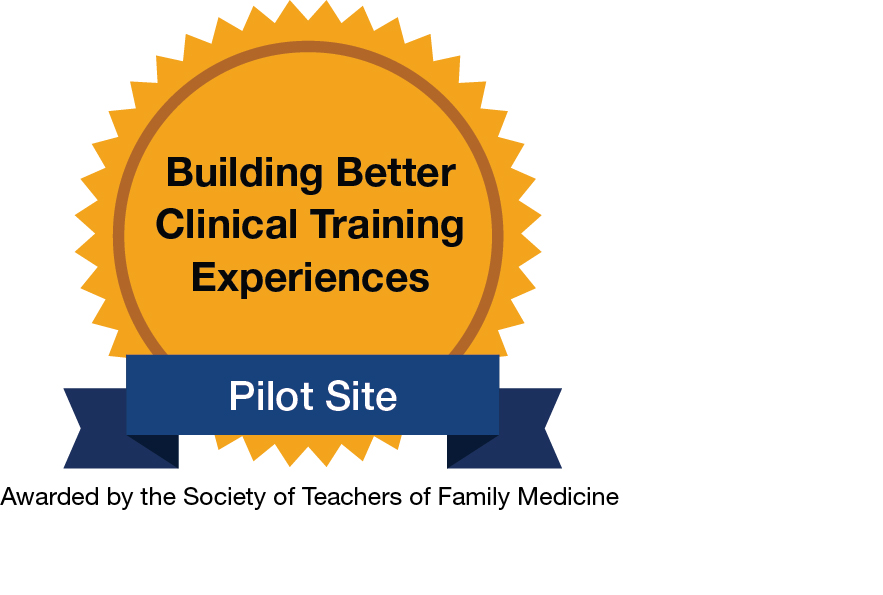 Project 2 Goals
Apply Now