Project 3: Family medicine departments, ideally in collaboration with other specialties and professions, will pilot standardized student onboarding resources and processes outlined in project 1 AND will pilot standardized preceptor onboarding and engagement resources outlined in project 2
implementation guide
Getting Started With the Student and Preceptor Onboarding Resources
To begin your project, bring your collaborators together to discuss a timeline and process to implement the following resources. 
Student Onboarding Resources
The expectation is that all these resources will be used with all students involved in the pilot.
AAMC's Recommendations for Preclerkship Clinical Skills Education for Undergraduate Medical Education
These are national recommendations for pre-clerkship curriculum. Use the appendices that begin on page 18 to determine where there are gaps in your current pre-clerkship curriculum and develop strategies for filling those gaps. Document your decisions so you'll be able to report on this later.


Education for students on "How to Be Awesome at Your Ambulatory Clinical Rotation"
Have your students review this brief document prior to beginning clinical rotations. Encourage the mindset

—

with students and with preceptors

—

that students are at clinical sites both to learn and to add value to the clinical practice. This document includes practical strategies and tips for students about how to maximize their time at an ambulatory clinical rotation.


Online Training Modules for Students
Direct students to https://stfm.org/studentonboarding to complete all three of the online modules before they begin clinical rotations. Each of the modules will take approximately 20-25 minutes. Students will need to attest to completion of these modules when filling out the Student Passport.

If you want to request additional proof of completion of the modules, students can also print out certificates after completing each module. 

Click on the Student Modules link for more instructions.


Student Passport
Have all students complete the online passport before each rotation. This document will be used to quickly provide each preceptor with basic information about the student's training, screenings, previous clinical rotations, and objectives for the current clinical rotation. Determine who students should send the passport to at your school to complete the communication to clinical training sites. A letter to verify Confirmation of Readiness for Clinical Work will need to be filled out by an administrator at your school and included with the passport. The passport can be updated and re-downloaded repeatedly as students gain clinical and procedural experience. Click on the Student Passport link for detailed instructions for use.
 Preceptor Onboarding Resources
The expectation is that all resources will be offered to all family medicine preceptors.
Faculty Appointment Onboarding Process
For new preceptors, work to develop reasonable requirements for faculty appointment that may be separate or less stringent than core faculty appointment requirements. You may need to create revised CV formatting requirements to accommodate preceptors who do not have an academic background. We also recommend that you provide administrative support to assist new preceptors in completing the faculty appointment process. Download this paper for more detailed recommendations. 


ABFM Precepting Performance Improvement Program
Become a Sponsor and offer ABFM Performance Improvement credit to your preceptors. This program allows Sponsors to offer Performance Improvement credit (MOC IV) to family physicians who teach medical students or residents and who participate in a teaching improvement activity. For this pilot, your performance improvement activity needs to involve the use of TeachingPhysician.org and the new self-assessment tool on the site.


TeachingPhysician.org Subscription and Community Faculty Self-Assessment Tool
TeachingPhysician.org helps institutions recruit, train, and retain community preceptors and meet accreditation requirements for faculty development. The pilot site lead will be emailed instructions for accessing TeachingPhysician.org. The new interactive Community Faculty Self-Assessment tool allows preceptors to identify areas of needed improvement in competency areas. The results of the assessment contain links to faculty development content on the website. 


Online Module on Giving Feedback
Encourage your faculty to complete this 30-minute online course on giving feedback, which is available at through the STFM Online Learning Center. Access instructions: Create or login to your STFM Account, then use the Store link at the top of your profile page to purchase the Giving Feedback course. You have been emailed an access code to purchase it for free. After you have completed the purchase, click on Online Learning at the top of your profile page to access the course. 


Master Preceptor Award
Recognize and reward your preceptors. Nominate those who qualify for this award.


Practice Recognition Award for Teaching Excellence
Recognize and reward practices that demonstrate a culture of support for the education of primary care providers.
Optional Resource: 
AAMC Uniform Clinical Training Affiliation Agreement
Consider working with your collaborators to develop strategies within your institutions and with clinical training sites to encourage implementation and acceptance of this standardized agreement. If possible, get your name added to the AAMC registry (see instructions on website).
Tracking and Evaluation
Surveys: During the course of this project, site leads will need to provide email lists for distribution of the following surveys: 
Clerkship Directors' survey: Prior to implementation of your program (list due to mabuel@stfm.org by April 12, 2019) and again towards the end of the project period (before Aug 2020). This needs to be completed by all collaborating clerkship directors.
Clerkship Administrator survey: Prior to implementation of your program (list due to mabuel@stfm.org by April 12, 2019) and again towards the end of the project period (before Aug 2020). This needs to be completed by all collaborating clerkship directors.
Preceptor office administrator survey: One time only towards the end of the project period (before Aug 2020). The list needs to include admins at community precepting sites used by all collaborators.
Community preceptor survey: One time only towards the end of the project period (before Aug 2020). The list needs to include preceptors used by all collaborators.
All surveys will be distributed by the Graham Center evaluation team and completed on the Qualtrics platform. The Graham Center evaluation team will complete the survey analysis.
Visit: A member or members of the evaluation team, which consists of the Robert Graham Center and members of the tactic team, will visit your location to learn more about how you and your collaborators are implementing your project. Staff will contact the site lead well in advance to arrange a visit. Clerkship Directors or site leads will need to identify participants for the interviews, focus group, and visits outlined below. We anticipate these visits will be about 2-3 days each. You will receive a guide to help you prepare.
The evaluation team will:
Interview clerkship directors and clerkship coordinators for lead site and collaborators (dependent on geography) for about one hour each. 
Hold a focus group of 8-12 students that would last approximately 90 minutes.
Conduct site visits with 3-4 community preceptors who precept for lead site. For rural settings or for other scheduling difficulties, there will be an option to do the community preceptor site visits via Skype. 
Sharing: At the Learning Collaborative Meeting, you'll be expected to share your strategies, successes to date, and challenges. Information and a reporting form will be sent to you in advance of the event.
Dissemination: During and/or after the project, it is expected that you will disseminate your results through presentations and publications.
Note: The American Academy of Family Physician's IRB has determined that IRB review is not needed.
Learning Collaborative Meeting
A representative from the lead institution is required to attend a Learning Collaborative meeting in Kansas City on October 24-25, 2019. One representative from each collaborating department/school is also invited to attend. Up to three total participants can attend. The project will reimburse travel expenses. This event will include a combination of training and sharing of experiences with the pilot project.
This project is funded by the American Board of Family Medicine Foundation.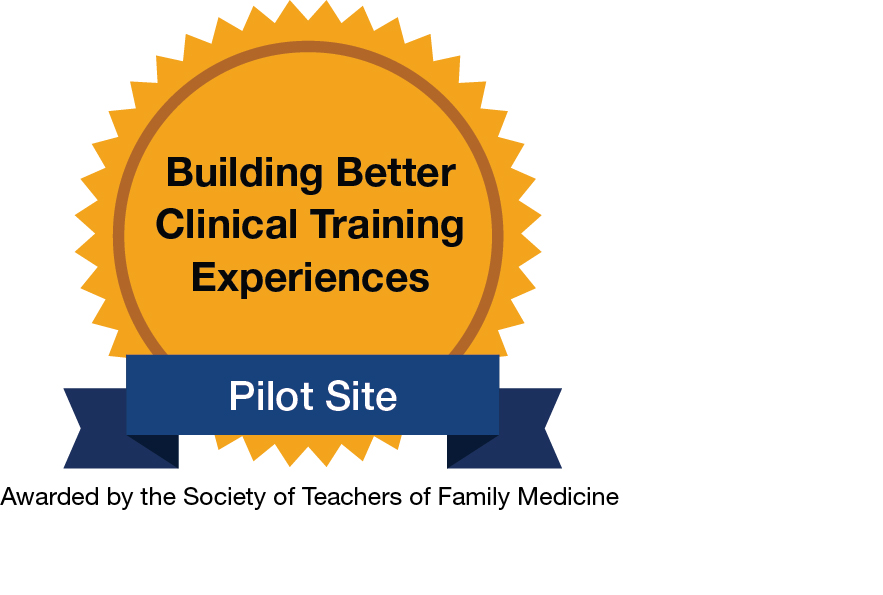 Project 3 Goals
Apply Now